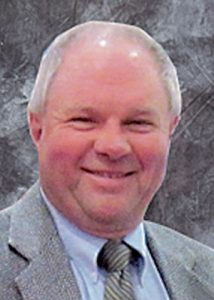 Tom Bressner is a native of Pontiac, Illinois, where he grew up on a small farm growing corn, soybeans, alfalfa, and milking registered Guernsey dairy cattle. He graduated from Illinois State University with a B.S. degree in Agribusiness Management.
Most of Tom's career was spent as the General Manager of Assumption Cooperative Grain Company in Assumption, Illinois, where he marketed millions of bushels of grain nationwide each year via truck and rail. In addition, Tom served as the Secretary of a short line railroad company, President of a small convenient store chain, and on the board of directors for a transportation LLC that owned, leased, and managed railcars on the Union Pacific Railroad.
Tom came to Wisconsin in March 2011 as the Interim Executive Director of the Wisconsin Agri-Service Association. In April 2012, he helped lead a merger of two large agribusiness associations, and served as the Executive Director of the Wisconsin Agri-Business Association (WABA) ever since.
In addition to his duties at WABA, Tom is on the Board of Directors of the Wisconsin Transportation Development Association, co-director of the Wisconsin Agribusiness Classic Convention and Trade Show, and also serves on the Wisconsin DOT Freight Advisory Council, DNR Invasive Species Council, Extension Board of Visitors, UW-Discovery Farms Project Steering Committee, Fox Valley Technical College Agriculture Advisory Council, and the Wisconsin Corn Promotion Board.
Tom is an active Registered Lobbyist and the Treasurer for the "Friends of Wisconsin Agribusiness" Political Action Committee. Tom is also a past board member and member of the Long Range Planning Committee of the National Grain and Feed Association.
Tom has been married to his wife, Carol, for 38 years. They have four grown children, and five grandchildren. Until his wife retires from her career as a middle school teacher and coach (2019), they have an apartment in Madison and a home near Moweaqua Illinois. Tom is also Secretary of the Board of Deacon at the First Baptist Church of Moweaqua IL.