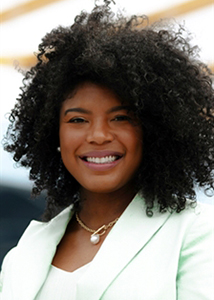 Marcelia Nicholson is an award-winning activist, and the first Black woman and Latina elected as Chairwoman of the Milwaukee County Board of Supervisors. Prior to her election as Board Chair, she served as 1st Vice Chair of the Board and Chair of the Economic & Community Development and Intergovernmental Relations committees. She sits on the board of directors of several community and national organizations, including Local Progress, the Milwaukee Art Museum, Wisconsin Counties Association, Clean Wisconsin, Southeastern Wisconsin Planning Commission, and the UW-Madison Extension Board of Visitors.
Born and raised in Milwaukee, Chairwoman Nicholson works to make opportunities that were given to her as a young woman growing up in 53206—one of the nation's poorest and most incarcerated ZIP codes—available to others. Chairwoman Nicholson is a champion for working people, public education, economic development, and community empowerment. Her past work as a union activist, community organizer, and educator informs her policy and community work. She has authored and sponsored several significant pieces of legislation, including a $15 living wage ordinance, an eviction reduction program, a resolution establishing Juneteenth Day as a major holiday, and a declaration of racism as a public health crisis (Milwaukee County was the first county or municipality in the United States to do so). She has also secured funding for county parks, advocated on behalf of women of color seeking entrepreneurship, and fought for criminal justice reform.
Chairwoman Nicholson is a proud product of Milwaukee Public Schools and is an honors graduate of the University of Wisconsin-Milwaukee. Prior to her first election to the Board of Supervisors in 2016, she taught fourth grade at Milwaukee Public Schools. As a member of the Milwaukee Teachers Education Association (MTEA), she worked to organize MTEA members and community groups for better teaching and classroom conditions. She earned recognition for her activism and dedication to Social Justice Unionism with a feature profile and cover story in the Fall 2016 edition of the National Education Association magazine.
Chairwoman Nicholson is also the Director of Civic Engagement and Independent Political Power at the Center for Popular Democracy. In her spare time, Marcelia serves as a national trainer for the Progressive Governance Academy, where she trains progressive elected officials across the country on various skills, including transitioning to public leadership and setting an agenda. She also has a passion for baking and owns her own business baking cookies, cakes, and sweets.
Notable accomplishments and recognitions:
Milwaukee Business Journal 40 Under 40 (2022
Milwaukee Business Journal "Power Broker" (2020 and 2021)
Milwaukee Democratic Party Rising Star Award (2020)
Panelist, Democratic National Convention, Milwaukee (2020)
Young Elected Officials Inaugural 35 under 35 (2020)
Downtown Milwaukee Downtown Playmaker Award (2019)
Young Elected Officials Inaugural Trailblazer Award (2018)
Panelist, Congressional Black Caucus Annual Legislative Conference (2018)
Local Progress National Board Member (2017)
National Working Families Party Academy Delegate to Madrid, Spain (2017)
Center for Popular Democracy Elected Representative to World Transformed Festival in Brighton, England (2019)
Panelist, Democratic National Convention, Philadelphia (2016)
National Education Association (NEA) 30 Under 30 (2016)
NEA Magazine Cover Story (Fall 2016)